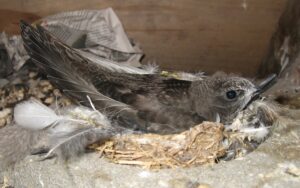 Saturday September 25th at 'The Holt', Leighton Moss 4PM to 6PM
Tanya and Edmund Hoare are swift enthusiasts and part of the national and international swift network. They set up a local swift group (Sedbergh Community Swifts) whose aim is to preserve these iconic birds that give such delight in summer as they swoop around our rooftops in towns and villages.
Each year cameras installed in the eaves of their cottage view their special swift colony and the talk will inc
lude video clips of many intimate aspects of swift behaviour. The latest research on their remarkable migration and their incredible aerial lifestyle will also be presented. Sadly these brilliant birds are in serious decline and the reasons for this, and what can be done to help – including fostering – will be discussed.
Young Lancaster birder Bethany Rose Fox will open proceedings with a short talk on the benefits of bringing out the binoculars and how the pastime chimes with the Slow Living ethos.