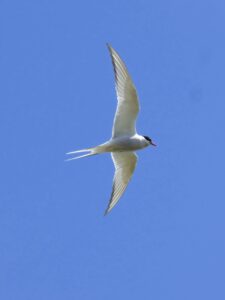 The second LDBWS field meeting of 2021 is a two-parter! Seawatching and landbird migrant sessions at Heysham Head this Saturday May 1st (7 'til 11AM) AND Sunday May 2nd (also 7 'til 11).
The first half of May sees the peak of Arctic Tern and Arctic Skua passage, as they fly into the inner bay on their Spring migration. Meet Shaun Coyle, Dan Haywood and other seasoned society seawatchers in the carpark of St. Peter's Churchyard Heysham (suggested parking- Knowlys Rd or the pay-and-display in the village) at 7AM for a two-hour+ session over the dropping tide.
If you're not an early riser we'll be birding in the area till 11 AM but note that for terns etc., early morning is usually best.
As well as looking for terns, skuas and auks on the move we may also see offshore swallow and swift passage and search for songbirds making landfall on the headland. Telescopes can be useful but are by no means essential– binoculars are fine.
We would also like to offer short guided walks around nearby Middleton NR at this double-morning event, where the focus would be singing scrub and wetland warbler species. Please let us you know if this appeals and we can make arrangements.
Contact [email protected] to express your interest in the event (stating which day you would like to join us) so we can gauge numbers and plan– note we'll be moving around using the 'rule of six' but there will be plenty of space on the head!"
Please note that this open weekend event replaces the May 8th event– when weather is predicted to be foul. Looking good for this weekend though!